TEAM HISTORY
OUR SKIRMISH TEAM – The Beginnings
In 1961, in the heady beginnings of the Civil War Centennial, a widely-assorted group of men centered loosely at Williamsport, PA, had heard about the North-South Skirmish Association (N-SSA), a relatively-new shooting organization that engaged in competition with Civil War firearms. It was decided to form a unit within the national organization. Choosing a name was not too difficult, as Williamsport had provided two companies to the original 11th Pennsylvania Volunteer Infantry. This regiment had a long and distinguished career in the service, and it was the only Pennsylvania regiment to serve through four years of war under its original unit designation. Company D had served in Williamsport as a militia unit known as the Williamsport Rifles, and the other company, the Woodward Guards, had become Company A.
The "mainspring" of the newly-formed unit was Lewis H. Conrad, a machinist and avid shooter/gun collector whose infectious enthusiasm was hard to resist. He became the Adjutant, or secretary of the new unit, and Lynn Henry was elected Commander, a position he was to hold for many years afterward. Word of mouth and some local publicity recruited eight other members from places like South Williamsport, Trout Run, Bodines, and Nescopeck. Then the task became to acquire the equipment and uniforms needed for competition.
The basic requirement was for a Civil War musket in shooting condition. This was not too difficult, although no reproduction firearms were available at first. Lewis Conrad bought a fine Model 1864 Springfield for $11. Demand did start to increase as the Centennial progressed, however, and members joining later had to pay as much as $100 for a good Springfield rifle-musket. One member was notorious for his rifled-and-sighted HP musket conversion, which used a 750 grain .69 caliber Minie bullet, and was reputed to "kill at both ends", just as was said about many of the muskets with which the Union troops had been armed with in the early Civil War years. There was not too much demand for DuPont black powder in the general public, so it could be purchased for about 85 cents a pound. Remington and Eley musket caps were similarly priced, and lead was available pretty much for the asking at many sites, so it was not an expensive sport.
Spiffy uniforms could be bought at Sears. Dark blue work pants were stripped of their belt loops and cuffs. Denim Sears "chore coats" (sold for barn use) could be made to resemble issue sack coats by throwing them in the washer with some dark-blue dye (best done when the wife or mother was not around) and replacing the four plain buttons with original Civil War eagle buttons. Rectangular Indian War US belt buckles and reproduction plastic-brimmed kepis were available from W. Stokes Kirk, surplus military dealer in Philadelphia. Other original leather accoutrements could be purchased cheaply from Bannerman's, on Long Island, although some members chose to make their own reproductions. It was found that Spanish-American War canteens were nothing but recovered Civil War canteens, so they were stripped and "re-recovered" with blue wool, and actually used for drinking. Black engineer boots completed the outfit, with the entire uniform easily costing less than $50.
Having organized and equipped themselves, the unit got in touch with representatives of the N-SSA, and it was determined that they would attend their first "skirmish" in the spring of 1962 at Fort Lee, Virginia. The N-SSA had yet to acquire a permanent home, and used various military firing ranges to hold their competitions. After the requisite probationary period, the unit was assigned Seniority Number 102.
At about the same time, the unit began a tradition which has been carried to the present, that of holding services on Memorial Day at Williamsport's Wildwood Cemetery Grand Army of the Republic Circle, where many of the veterans from the area were buried.
A photo and article in the Williamsport Grit newspaper from May 27, 1962, was headlined "Civil War Buffs Revive City Rifles Unit to 'Preserve Spirit of Famed Battles'":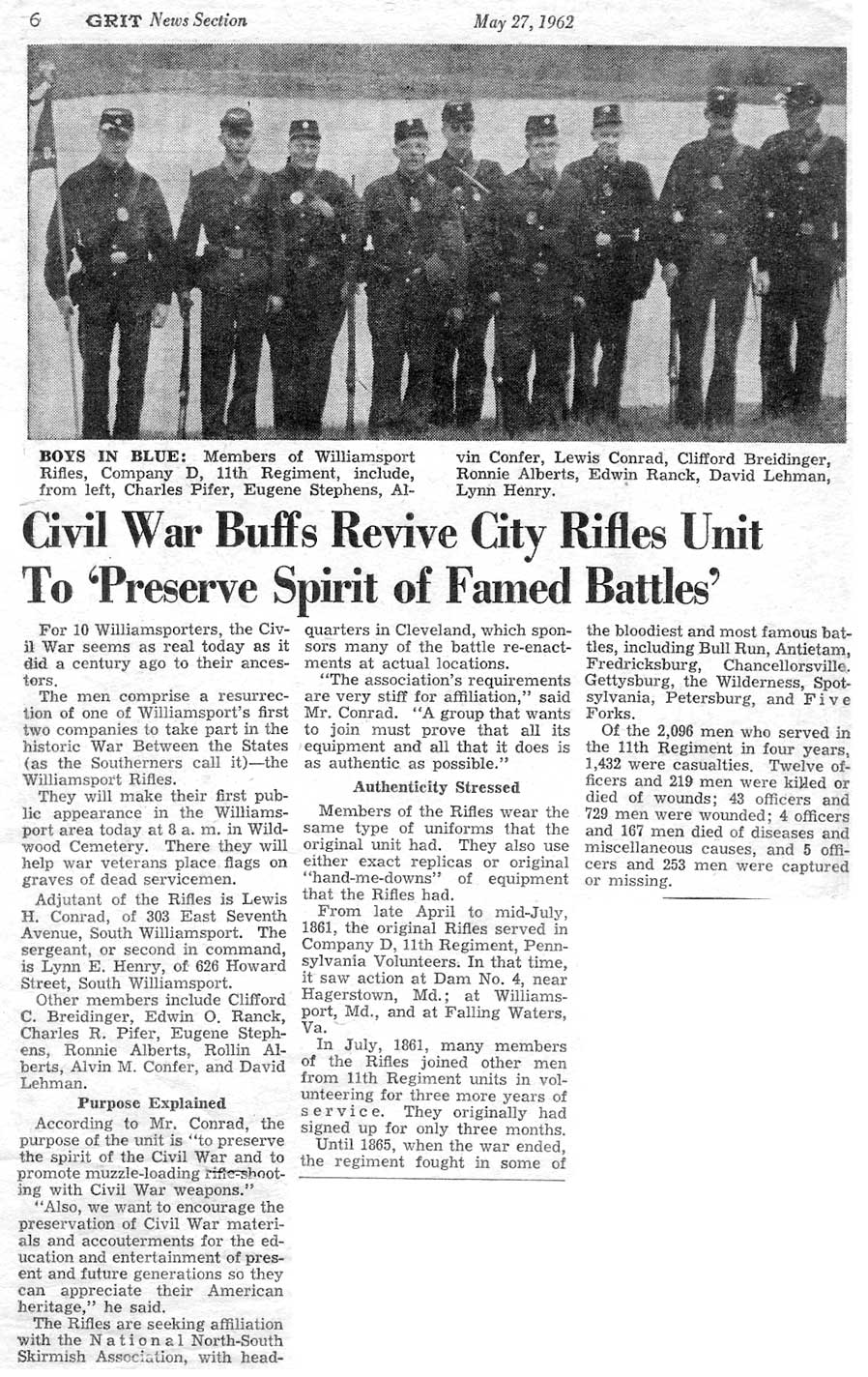 The article swelled the ranks with a few more members, and in the fall of 1962 the unit attended the 100th Anniversary of the Battle of Antietam, held on the battlefield near where the original regiment had fought in the Cornfield. Later, it competed for the first time at the N-SSA home range near Winchester, Virginia. Neither of these events would be very familiar to today's reenactors or Skirmishers. The reenactment campsite featured modern tents of all descriptions, with modern army olive drab being much in evidence. Formations were very vague, and commands bore more resemblance to World War II and Korean War than Civil War. The Maryland National Guard was present in force to represent Confederates, wearing unconverted gray work shirts and pants, and carrying Model 1917 "Enfields". Thankfully, they were kept in the distance.
The National Skirmish was a two-day affair, with individuals being held on Saturday, and musket teams on Sunday. Individuals were "squadded", which means everyone who wanted to compete in a particular event had to show up at the appointed time and shoot that event. It was fair! There were no carbine teams, revolver teams, breechloader teams, or artillery matches, although there were advocates for all these events, and gradually they were tested and instituted. Rules were quite lax by today's standards, and the smaller scale allowed for more "fun" rather than really serious competition. Winning musket teams of memory were the 110th Ohio, Richmond Volunteer Militia, and the 6th Wisconsin Infantry, who actually wore wool uniforms with Hardee hats and gaiters!
Over that first winter, there was much discussion among 11th unit members on the "reenactment vs. shooting" issue. It was recognized that it was going to be impossible for the unit to give proper emphasis to both endeavors, particularly with the increasing Civil War Centennial activities. By mid-1963, the issue had been resolved in favor of continuing the N-SSA competitions on a regular basis, while still allowing individual members to continue to attend reenactments if they wished. It must be recognized that the N-SSA actually provided an initial basis for the modern reenacting community. Organizers of the Centennial events called on N-SSA units first, and they formed a nucleus for ad-hoc reenactor units that were later formalized and developed into the high-level organizations that exist today. Contrary to many predictions at the time, neither reenacting nor Skirmishing faded away after the Centennial was over, and both continued to grow.
One outcome of the Centennial was a rapid increase in the availability of reproduction firearms and other equipment. Navy Arms was first with reproduction Model 1851 Navy revolvers and later the Remington "Zouavee" muskets, as they were known to unit members, although it was curious that Val Forgett's choice of a musket to reproduce was one that likely was never issued, rather than the common Springfields or Enfields. Leather accoutrements of good quality were made by Lund and others, and brass belt buckles and other plates were restruck from the original dies, so the Indian Wars stuff could be replaced. Paul Ruehs made excellent-quality, no-plastic, forage caps to replace the Stokes Kirk ones, although the price was considered exhorbitant at $19.50. New canteens replaced the nasty Spanish-American war ones. Finally, in the early 1970's, the decision was made to switch uniforms to far more authentic all-wool ones. At the same time, the trouser color was changed to sky-blue from the original dark blue, which reflects the change made by the original regiment in 1862.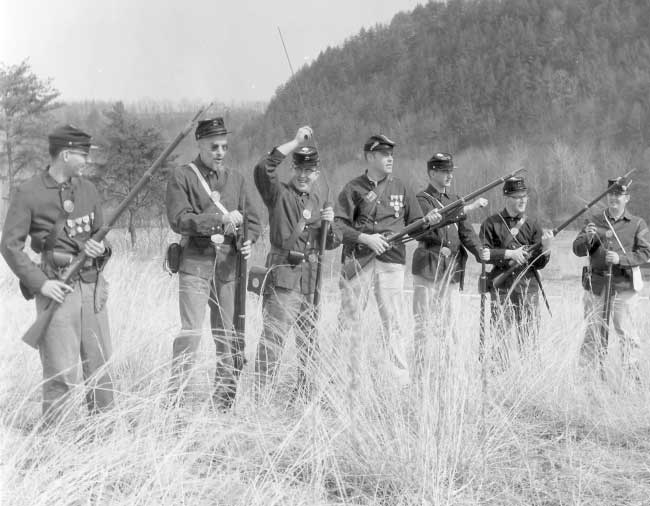 (Left to Right) Eugene Stephens, Edwin Ranck, Ronald Albert, Reverend Philip Lister, Wayne Sager, Lynn Sager, Clifford Breidinger
Also during this time, some members started challenging the "conventional wisdom" concerning shooting. Was it really necessary to pull the musket's breech plug for cleaning every time it was fired? How much tension should there be on the barrel tang? Would glass bedding help accuracy? What about peep sights? Which of the new bullet designs were best? Eventually, the era during which cleaning a pigeon board was a cause for major celebration evolved into one in which team medals started to be earned.